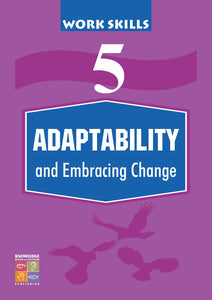 Adaptability and Embracing Change
SKU / ISBN:

The world of work is changing at an ever increasing pace so employers actively seek out graduates who can adapt to changing circumstances and environments, and embrace new ideas, who are enterprising, resourceful and adaptable.
No matter what your chosen occupation might be, you're bound to experience change in the workplace at some point. Whether dealing with updated management systems, new personnel, or advances in technology, employees who can go with the flow bear a distinct advantage over those who struggle with change. It's a natural urge to fight change, particularly when you feel that you've mastered a given situation. Yet flexibility and adaptability in the office can be great assets which can help you grow along with your business.
Experiencing change in the workplace is inevitable irrespective of your occupation. Change occurs and we need to face it each day in our work life. Anything from the development of new products, the fusion of divisions and more invites change. One would surely gain opportunities by facing change in the work place. It is common that humans have the character to battle change. It is to be understood that unwillingness to accept change can derail career progress. Hence, in order to become a valuable asset for the organization, it's important to embrace change in the workplace. Let's run through a few points and related aspects about how to embrace change in the work place.
Format: Paperback
Pages: 100
Series: Work Skills
Series Number: 5
Publication Date: 01/10/2017
Publisher: Knowledge Books and Software
Subject: Business Studies
Audience:

Secondary