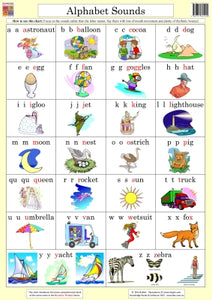 Alphabet Sounds Wallchart (Prep)
SKU / ISBN:
Author: Hallett, Ellie
This chart addresses the National Curriculum requirements in Literacy for Foundation/Kindergarten/Prep year.
This is an essential component for Literacy by teaching letter sounds, not letter names - this is important to avoid confusion! This chart can be used for several years based on the child obtaining fluency in the process of blending sounds.
Children can use the chart to practise letter sounds by recognising letters and speaking.
Write/wipe - gloss finish allows the children to practise and remove for further attempts by others or as a refresher.
An invaluable resource for walls at home to practise and use in the classroom.
Wallchart measures approximately 45cm x 32cm.
Format: Wallchart
Series: Reading Works
Publication Date: 15/12/2014
Publisher: Knowledge Books and Software
Subject: Wallcharts, English
Audience:

Primary