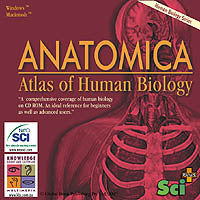 Anatomica (CD-ROM)
SKU / ISBN:

A comprehensive coverage of human biology on CD-ROM and an ideal reference for beginners as well as advanced users.
Brilliantly executed, this encyclopedic coverage of human biology has been produced in an intuitive and easy to use format.
Anatomica contains over 1000 diagrams, maps and images. Anatomical maps include:
muscle
skeletal system
cardiovascular
lymph and reproductive systems
You simply access the various diagrams by clicking on the area to zoom, and then select the level required.
You can search for the specific names and conditions, as well as view levels of the human body such as skin, nerves, circulatory system and so on.
Knowledge and skill will quickly increase using this CD-ROM.
Format: CD-ROM
Series: Science Series
Publication Date: 12/12/2002
Publisher: Knowledge Books and Software
Subject: Subject: Science
Audience:

Secondary