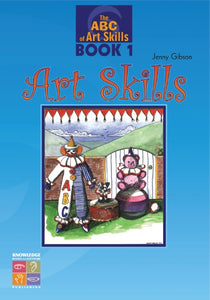 Art Skills
SKU / ISBN:
Author: Gibson, Jenny
The first in the series that will shine a light on the ephemeral treasure chest of skills that allow for results that many would-be artists are afraid to attempt. If you have ever said, "I wish I could draw", your chance to achieve this goal starts here.
Book 1 focuses on developing the fundamental skills that an artist will need. Sections include: Fun ways to get a grip, The power of the line, Wrist and arm control exercises, The eraser might be your enemy, Observation exercises and more.
The ABC of Art Skills is suitable for use in the home as a self-study text or in the classroom as part of an art skills course and includes teachers notes on assessment gradings.
Format: Photocopiable Masters
Series: The ABC of Art Skills
Publication Date: 30/05/2005
Publisher: Knowledge Books and Software
Subject: Arts
Audience:

Secondary