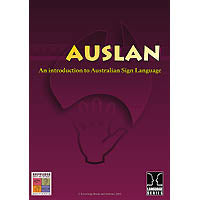 Auslan (Paperback & DVD)
SKU / ISBN:
Author: Skewes, Sean Robert
Auslan, the acronym for Australian Sign Language, is the native language of Australia's Deaf community. It is a unique and fascinating language that is much more than simply English 'spelled out' with the hands. Auslan is a growing, evolving language that uses physical movement, expression and signs as a medium of communication.
Over one million Australians are affected by a hearing disorder of some kind and this pack, part one of three, is an ideal introduction to the language of Australia's Deaf community and is suitable for personal study in schools, homes, businesses, or government departments. The video comes with open captions for easy use by both hearing impaired or hearing viewers.
The dynamic nature of a language that relies on movement for its expression is difficult to impart through the traditional printed text which is why this pack has both video and text components. Finger spelling, an essential foundation for learning Auslan, is illustrated from both the users and the viewer's perspectives in both print and video formats. The video is broken down into easy to use sections, demonstrating: finger spelling, commonly used signs, the alphabet, numbers, people, places, objects, verbs and adjectives. Basic phrases are introduced and exercises are included to build fluency in Auslan.
The book complements the video and contains a photographic guide to finger spelling, extra sections on the development of Auslan, other sign languages, grammar, information about deafness, hearing aids and other devices. Also included are resource lists detailing useful publications, organisations and websites.
Format: Paperback & DVD
Pages: 54
Publication Date: 08/01/2003
Publisher: Knowledge Books and Software
Subject: English, Learning Support
Audience:

Secondary