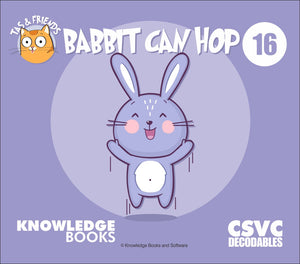 Babbit Can Hop
SKU / ISBN:
Author: Ricketts, William
In Book 16 in the series, Tas and Babbit have fun. Short vowels practiced. New consonant introduced. No new sight words.
Tas and Friends is a series of 80 readers for developing skills in decoding. When children are learning the basic foundations of phonics they need continual practise of these foundation elements. Readers provide a perfect opportunity to introduce the vowel, consonant, syllable or blend to use and then practice. These sets of Tas and Friends readers provide an ideal means for children to gain fluency and secondly, have fun reading for the first time. Phonics and decoding are the foundation skills for reading. It is true that some children can read without decoding but are they understanding the content? To speed up reading skills all children benefit by a starting program in decoding. This will introduce the student to vowels and consonants followed by a sequential building of use of blends and syllables. Children build confidence and fluency and are ready to decode unknown words. Readers speed up the literacy program in schools.
Author Bio:
William Rickett is a practising literacy teacher with over 40 years experience.
Illustrator Bio:
Dean Maynard is a full-time illustrator and designer with over 35 years experience. He has many award-winning products and works to his credit.
Format: Paperback
Pages: 16
Series: Tas and Friends
Series Number: 16
Publication Date: 1/02/2022
Publisher: Knowledge Books and Software
Subject: Decoding, Literacy, English
Audience:

Early Childhood, Primary

Curriculum:

Australian