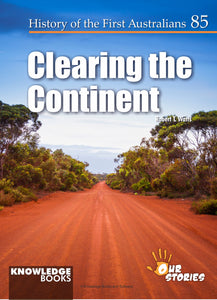 Clearing the Continent
SKU / ISBN:
Author: Watts, Robert T.
For thousands of years, our First Nations people lived and looked after their country. No-one owned anything and the land was looked after by everyone, for everyone. However, when Captain Cook arrived, big changes happened. Cook claimed the land for Britain and a colony was settled. The British started clearing lands and forcing First Nations people off country. Not until 200 years later did things start to change – something that is still happening today.
Format: Paperback
Series: History of the First Australians Set 5
Series Number: 85
Publication Date: 01/05/2023
Publisher: Knowledge Books & Software
Subject: Indigenous
Audience:

Primary

Reading Recovery:

Level 14

Curriculum:

Australian