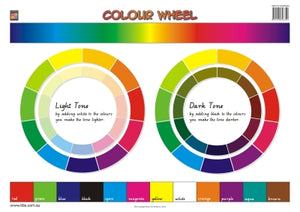 Colour Wheel Wallchart (Grade 3)
SKU / ISBN:

Colour is poorly understood as a concept and application. This chart allows children to build familiarity with the concept of tone, colour variants and the whole applied spectrum. This is the second chart following on from the basic primary colours. This is a continuous and useful reference to apply to all classes and subjects and can be used for many years of schooling.
Write/wipe - whiteboard type gloss finish allows the children to practise and remove for further attempts by others or as a refresher.
An invaluable resource for walls at home to practise and use in the classroom.
Wallchart measures approximately 45cm x 32cm.
Format: Wallchart
Publication Date: 15/12/2014
Publisher: Knowledge Books and Software
Subject: Wallcharts, Art
Audience:

Primary