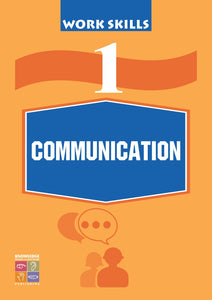 Communication
SKU / ISBN:

Having good communication skills in the workplace is all about being able to convey information to people clearly and simply, in a way that means things are understood and get done. It's about transmitting and receiving messages clearly, and being able to read your audience. It means you can do things like give and understand instructions, learn new things, make requests, ask questions and convey information with ease. This book includes:
Key Communication Skills:
Verbal Communication
Non-Verbal Communication
Body Language
Non-Verbal Communication: Face and Voice
Effective Speaking
Since people play such a big role in your life, your entire life will go much smoother if you take the time to improve the way you connect with others by developing better communication skills.
Format: Paperback
Pages: 112
Series: Work Skills
Series Number: 1
Publication Date: 01/10/2017
Publisher: Knowledge Books and Software
Subject: Business Studies
Audience:

Secondary