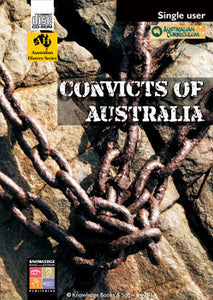 Convicts of Australia (PowerPoint CD-ROM)
SKU / ISBN:

A PowerPoint resource made for the Australian Curriculum.
Contents:
Who were the Convicts?
Crimes of the Convicts sent to Australia
The Journey of the First Fleet
Transportation to Australia
The First Settlement and Convicts
The First Settlement and Indigenous Australians
Convict Clothes
Convict Food
Convict Work
Convict Settlements in Australia
The End of Transportation
Notable Convicts
Resources and Further Reading

Review and interactive quizzes are included for exercises, as well as extensions for futher engagement.

Any time you see this Question Mark icon there is an interactive Quiz related to that section of the presentation. In addition, each of the images is a dynamic link to informational text related to the picture.
Format: CD-ROM
Publication Date: 21/03/2013
Publisher: Knowledge Books and Software
Subject: History
Audience:

Secondary

Curriculum:

Australian