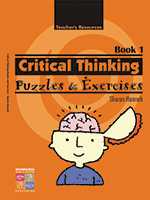 Critical Thinking Puzzles and Exercises
SKU / ISBN:
Author: Hannah, Sharon
These reproducible puzzle worksheets are perfect for encouraging critical thinking processes in students whilst providing teachers with a handy resource for engaging students during 'down time' in classes, supervision periods or as home study exercises.
These problems have been developed to encourage students to ask questions, apply strategies to a range of situations, analyse and evaluate problems, and reflect on the effectiveness of the strategies used. Above all, they rely on students learning to find the hidden mathematical operations required to solve the problems.
The problems begin with routine examples to allow students to develop strategies and confidence while working with basic mathematical skills and situations that can be related to everyday events. Later problems rely on applying mathematical knowledge in a selection of well-known situations and new problems and have been selected to challenge students to develop creative and flexible approaches. Many can be used as a stimulus to student discussion giving students practice in communication or as a homework challenge.
Some of the exercises are based on normal school syllabus content while others require little formal mathematics but are intended to be challenging, enjoyable and stimulating and confidence-building to students of all levels.
An ideal resource for teachers from middle school to Year 10 and beyond.
Format: Paperback
Publication Date: 27/07/2006
Publisher: Knowledge Books and Software
Subject: Maths
Audience:

Secondary