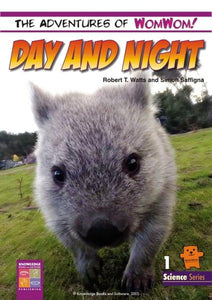 Day and Night
SKU / ISBN:
Author: Watts, R.T. and Saffinga, Simon
---
The diurnal process and its effects on animals and birds is outlined in this reader. Animals need to be studied to see varying patterns and repsonses. Birds generally sleep throughout the night, but some are hunters when darkness falls.
Curriculum
:
Incorporates the following Australian Curriculum content:
ACSSU004: Daily and seasonal changes in our environment affect everyday life.
RR Level
: 18
Word Count
: 150
Text/Genre Type
: Narrative
Fiction/Non-Fiction
: Non Fiction
Format: Paperback
Pages: 20
Series: The Adventures of WomWom
Series Number: 1
Publication Date: 7/05/2016
Publisher: Knowledge Books and Software
Subject: Literacy
Audience:

Primary

Reading Recovery:

Level 09

Curriculum:

Australian