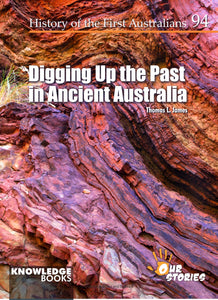 Digging Up the Past in Ancient Australia
SKU / ISBN:
Author: James, Thomas L.
Archaeology is a fascinating science and there is no better place to dig up the past than in Australia where you can find the world's oldest living culture! The landscape and the fossilised remains of plants, animals and even humans have been discovered right across the country and scientists have been able to measure their age through a variety of scientific methods. Join the author as he explains how technology is helping science to find out more and more about ancient Australia.
Format: Paperback
Series: History of the First Australians Set 5
Series Number: 94
Publication Date: 01/05/2023
Publisher: Knowledge Books & Software
Subject: Indigenous
Audience:

Primary

Reading Recovery:

Level 21

Curriculum:

Australian