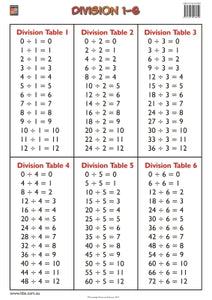 Division Tables 1-6 Wallchart (Grade 1)
SKU / ISBN:

This chart addresses the National Curriculum requirements in Maths with the introduction of Division Tables for numbers 1-6. This is an essential component for Maths in Grade 1 classes.
the tables are displayed so children can practise and compute the division amounts for each number pairing. Children can have many hours of practise completing these exercises.
Write/wipe - gloss finish allows the children to practise and remove for further attempts by others or as a refresher.
An invaluable resource for walls at home to practise and use in the classroom.
Wallchart measures approximately 45cm x 32cm.
Format: Wallchart
Publication Date: 15/12/2014
Publisher: Knowledge Books and Software
Subject: Wallcharts, Maths
Audience:

Primary