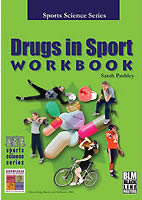 Drugs in Sport Workbook
SKU / ISBN:
Author: Pashley, Sarah
A fascinating guide to a very topical subject. Dr Sarah Pashley examines the problem of performance enhancing and recreational drug use by athletes. Both the short and long term effects and risks are examined and explained in the workbook which has exercises designed for various levels, making it suitable for ages 14 and up.
To aid in its use, a teachers' section is included which details answers and suggested outcomes for the workbook exercises.
Topics treated include:
Drugs and medications
Pharmacokinetics
Pharmacodynamics
Drug classification
Drug identification
Side effects and allergies
Ergogenic aids
Drug testing
Banned drugs
What many athletes do not realise is that there are far greater risks involved in drug use than simply the risk of being caught. The science of drug use and the physiological effects are examined to show the resultant cost to the athlete's future from 'illegal doping'. The diagrams and illustrations complement the easy to use text making this an essential resource for all schools and sports clubs and can be used as a basis for extension exercises, revision, assessment or as a handy reference guide.
Sarah Pashley holds and Advanced Diploma in Clinical Sports' Massage, a Bachelor of Science in Physiology and Psychology and a PhD in Neuroscience. Sarah has worked as a sports' massage therapist and as a researcher in the pharmaceutical industry in Europe and America and has published numerous journal papers on medical research.
Format: Paperback
Series: Sports Science
Publication Date: 01/08/2003
Publisher: Knowledge Books and Software
Subject: Physical Education
Audience:

Secondary