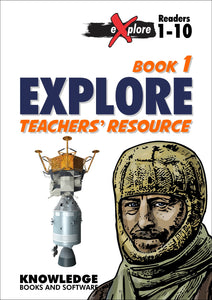 eXplore Set 1 Books 1-10 Teacher Resource
SKU / ISBN:
Author: Coombs, Sharlene G.
This Teacher Resource Book 1 is for the Set 1 series of books 1 to 10. This has a total focus on building literacy skills. There is an extensive range of literacy exercises. These cover two stages; the initial pre-reading activities to be able to sight read the difficult words, and post-reading exercises which are focussed on building comprehension and writing skills. The activities range from quick reviews to challenging exercises to extend the students in a structured approach managed by the teacher.
Format: Paperback
Pages: 40
Series: eXplore Chapter Books
Publication Date: 1/08/2020
Publisher: Knowledge Books and Software
Subject: Learning Support, Literacy
Audience:

Primary, Secondary

Curriculum:

Australian