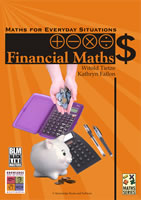 Financial Maths
SKU / ISBN:
Author: Tietze, Witold
Maths for everyday situatations! More than 70 pages of reproducible exercises containing more than 1000 financial maths problems. Broken down by subject each section incorporates an introduction giving students enough information to complete the exercises. Many of the problems are given in words rather than equations to help foster the development of critical thinking skills in students.
Topics covered include:
budgeting
mobile phone accounts
renting a house
GST
income tax
credit cards
hire purchase
depreciation
sale prices
commission
grocery shopping
An excellent resource for exercises suitable for instant lessons, revision and home study. A teachers section is included at the rear of the volume.
Format: Paperback
Publication Date: 29/01/2004
Publisher: Knowledge Books and Software
Subject: Maths, Learning Support
Audience:

Secondary

Curriculum:

Australian