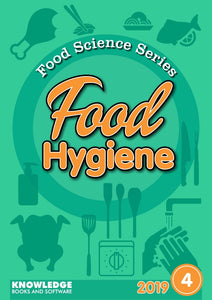 Food Hygiene
SKU / ISBN:

Food Hygiene is becoming an important aspect of reducing food contamination in all food outlets providing safe food hygiene.
Whilst severe outbreaks of food poisoning are guaranteed to make headlines, there are many less severe cases throughout Australia every day. Most of these are caused by negligence as many people simply do not know to handle, store or prepare food correctly. This book looks at the micro-organisms associated with food contamination. As well as other reasons for food spoilage such as the importance of storing food at the correct temperature, the effect of vermin and the effect of food poisoning on our society.
What are the effect of chemical contamination on our food? In Australia recently we had rockmelons causing food poisoning. How did they get contaminated? This book is an up to date look at the importance of Food Hygiene and the laws that protect our communities.
Format: Paperback
Pages: 60
Series: Food Science Series
Publication Date: 10/07/1905
Publisher: Knowledge Books and Software
Subject: Home Economics
Audience:

Secondary