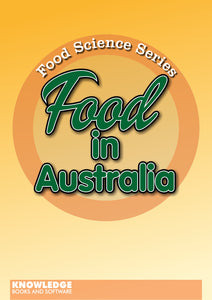 Food in Australia
SKU / ISBN:

How would you prepare crocodile and kangaroo for a family meal?  How can the nutritional value of the crocodile, kangaroo, lilly pilly and the quandong be used in our recipes today?
Historically Aboriginal and Torres Strait Islanders ate different bush foods depending on the season. What are bush foods? This book looks at the various bush foods eaten and compares the nutritional value and the different methods of food processing of historical foods eaten by Aboriginal and Torres Strait Islanders. Also includes the different food trends in Australia. The multicultural flavour of our nation and the continuing effect of the migration of different nationalities on our choice of food.
This book provides a resource for teachers as well as student workbook pages with technological links, numeracy and literacy exercises. Creativity is encouraged and students solve problems using evidence.
Format: Paperback
Pages: 50
Series: Food Science Series
Publication Date: 01/02/2022
Publisher: Knowledge Books and Software
Subject: Home Economics
Audience:

Secondary