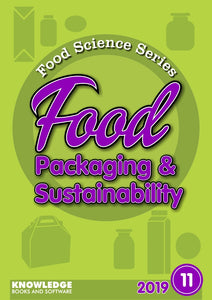 Food Packaging and Sustainability
SKU / ISBN:

Recycling and removing excess packaging to eliminate the problem with plastics polluting our waterways concerns most households.
In this food packaging book the essential reasons for food packaging are examined.
The need to provide sustainable containers that can be recycled as well as the reality that food needs to be contained.
Health and safety issues
Labelling
Distribution of food products
How much does branding and marketing effect packaging?
Keeping Food Safe from microorganisms and safe handling of food are all aspects of packaging, making this topic relevant to the food producer, marketer and consumer of foods.
The different types of packaging should be designed for a sustainable future. This is an area where the consumers are making informed decisions based on a concern for the environment we live in.
Format: Paperback
Pages: 50
Series: Food Science Series
Publication Date: 01/10/2019
Publisher: Knowledge Books and Software
Subject: Home Economics
Audience:

Secondary