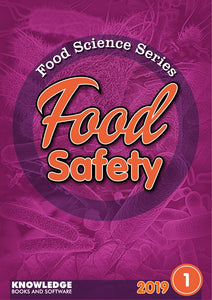 Food Safety
SKU / ISBN:

These blackline masters encourage students to practise good hygiene and food safety. Handy exercises in this book enable students to make decisions about hygienic and safe work practices in the selection, handling and storage of food.
Germs are transferred onto surfaces such as door knobs, kitchen surfaces and to eliminate the spread of germs handwashing is encouraged and activities in this book provide different scenarios to maintain food safety.
How do we make food safe and what is the best way to stop food spoilage and food poisoning? Most people suffer from food poisoning at some time in their life and only a small proportion of the food poisonings are ever reported. More serious food deterioration or food poisoning is identified and the origin of the outbreak isolated quickly to reduce the effects of gastroenteritis. Only too often this is never reported and the only decision people make is to never return to that same restaurant. A knowledge of safe food handling practices in all food service outlets allows the food handled to be hygienic and safe.
This book is filled with action-packed exercises and activities which will provide activities to create and suggest solutions when hospitality problems occur.
Format: Paperback
Pages: 50
Series: Food Science Series
Publication Date: 01/08/2018
Publisher: Knowledge Books and Software
Subject: Home Economics
Audience:

Secondary