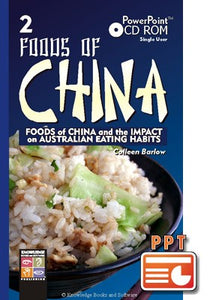 Foods of China 2 (PowerPoint CD-ROM)
SKU / ISBN:
Author: Barlow, Colleen
The Impact on Australian Eating Habits
This colourful PowerPoint and worksheet package takes a contemporary look at the food culture of China focusing on the Multicultural perspectives of the Food Technology Syllabus Years 7-10: In the study of the focus areas food in Australia and food equity students will explore a number of multicultural perspectives concerning food. Students will enhance their understanding, appreciation and acceptance of people from a variety of cultural backgrounds.
This PowerPoint presentation also provides students with an opportunity to reflect on Food safety, hygienic food service and OH&S in relation to food preparation and service which supports the Core: Food Preparation and Processing. Material presented and questions posed throughout this PowerPoint package provide teachers with a stimulating resource with which to consolidate and extend students in achieving the outcomes listed below.
Food Technology Syllabus Years 7-10 Stage 5 Outcomes:
5.1.1 demonstrates hygienic handling of food to ensure a safe and appealing product
5.1.2 identifies, assesses and manages the risks of injury and OHS issues associated with the handling of food
5.3.2 justifies food choices by analysing the factors that influence eating habits
5.4.1 collects, evaluates and applies information from a variety of sources
5.6.1 examines the relationship between food, technology and society
5.6.2 evaluates the impact of activities related to food on the individual, society and the environment.
This package also has relevance to the Stage 6 Food Technology Unit FOOD AVAILABILITY and SELECTION, in particular PART 2 which focuses on the contributions China has made to our food habits.
Format: CD-ROM
Series: Foods of China
Series Number: 2
Publication Date: 07/04/2012
Publisher: Knowledge Books and Software
Subject: Home Economics
Audience:

Secondary

Curriculum:

Australian