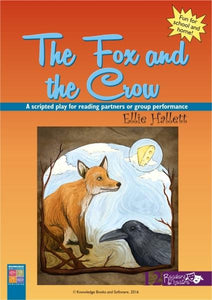 Fox and the Crow, The
SKU / ISBN:
Author: Hallett, Ellie
Classroom Use:
The use of these Readers' Theatre stories in classrooms have a multitude of learning opportunities. This play can be used as a Take Home Reader, a Guided Reader or part of an extended classroom play. The student can have fun at home reading in conjunction with their parents or use in groups as part of a Guided Reader activity. The student can take various parts or have a read around session. The outcome is a series of developing skills in improved literacy, public speaking and vocabulary. You can use this reader many times with the group as they practise and refine their parts while vocalising the characters. The children can practise until their skill level is able to provide a school assembly presentation standards. The reader has many possibilities as outlined in the ACARA references mentioned above.
Curriculum:
Incorporates the following Australian Curriculum content:
ACELY1784: Use interaction skills including listening while others speak, using appropriate voice levels, articulation and body language, gestures and eye contact.
RR Level: 30
Word Count: 1802
Text/Genre Type: Narrative
Fiction/Non-Fiction: Play
Format: Paperback
Pages: 28
Series: Readers' Theatre
Series Number: 12
Publication Date: 7/05/2016
Publisher: Knowledge Books and Software
Subject: Literacy
Audience:

Primary

Reading Recovery:

Level 30