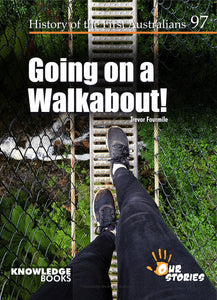 Going on a Walkabout!
SKU / ISBN:
Author: Fourmile, Trevor
Join proud Yidinji man, Trevor Fourmile, as he explains the importance of Going Walkabout for his First Nations people. Switch off your devices, your thoughts, and your worries, take off your shoes and walk barefoot to reconnect to Country. Learn about the importance of seeing with all your senses and discover the joy of being in the moment with nature!
Format: Paperback
Series: History of the First Australians Set 5
Series Number: 97
Publication Date: 01/05/2023
Publisher: Knowledge Books & Software
Subject: Indigenous
Audience:

Primary

Reading Recovery:

Level 24

Curriculum:

Australian