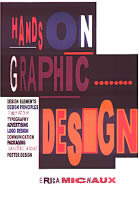 Hands on Graphic Design
SKU / ISBN:
Author: Michaux, Erica
One of our best sellers! A very popular copyright-free resource for art teachers.
"What separates 'okay' design from 'great' design is not what software a student uses, but how they use the tools to produce their design!" The purpose of this book is to provide students with the opportunity to learn the basics of graphic design in a practical way.
Hands on Graphic Design looks at the principals of graphic design such as line, shape, texture, value/tone, space, linear perspective, colour, balance, emphasis, proportion/scale, visual energy, logos, advertising and much more. An excellent resource for building the foundation skills of design.
Format: Paperback
Publication Date: 01/01/2000
Publisher: Knowledge Books and Software
Subject: Arts
Audience:

Secondary