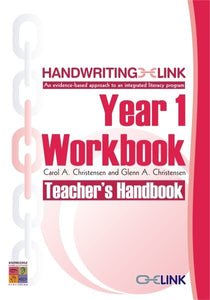 Handwriting LINK Year 1 Workbook Teacher Guide
SKU / ISBN:
Author: Christensen, Carol
Research shows that handwriting has a remarkably strong relationship with the ability of young children to write high quality text.
LINK Handwriting is a new evidence-based approach to developing handwriting skills in the early years of schooling.
Research shows that the key to developing proficiency in handwriting is to introduce the letter shapes to children using large fluid movements. Traditional approaches that introduce handwriting using two or four ruled lines and that focus disciplined pencil control have a negative impact on children's achievement in written language.
Format: Paperback
Series: Handwriting LINK
Publication Date: 01/04/2014
Publisher: Knowledge Books and Software
Subject: Handwriting, Textbooks and Workbooks
Audience:

Primary