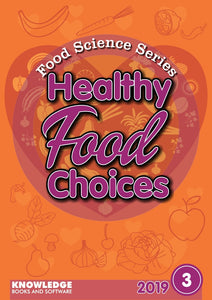 Healthy Food Choices
SKU / ISBN:

What is the best type of food to eat to keep your blood sugar down to a healthy level? If you enjoy gluten free cakes how is it benefiting your digestive system? 
This book recognises the impact of food habits and choices on health.
Some of our choices of the foods we eat, and our food habits affect our health and well-being. The implications of under and over nutrition and diet-related disorders such as:
Diabetes type 2
Coeliac disease
Obesity
Anaemia
Osteoporosis
Coronary heart disease
Hypertension
Colon cancer
What are the foods that assist the body in maintaining good health? This book looks at the different nutritional disorders and the types of foods that assist the individual in making correct food choices for their well-being and good health.
Format: Paperback
Pages: 50
Series: Food Science Series
Publication Date: 01/10/2018
Publisher: Knowledge Books and Software
Subject: Home Economics
Audience:

Secondary