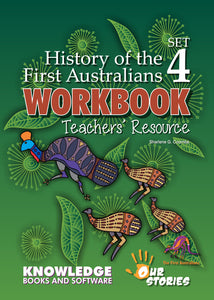 History of the First Australians Set 4 (Books 61-80) - Teachers' Resource
SKU / ISBN:
Author: Coombs, Sharlene
The Teachers' Resource for History of the First Australians Set 4 – More Stories has been designed to help your students engage in deeper learning opportunities through literacy activities that link with each of the stories. Each story is supported by two full pages of activities which include:
Spelling and vocabulary development/practice
Grammar and punctuation work
Word study and dictionary work
Oral language opportunities
Handwriting/fine motor skills practice
Comprehension and reading fluency
Critical and visual literacy opportunities
Oral language continues to be a focus with this guide with activities that encourage students to express their ideas and thoughts through speaking, writing and artwork. This fosters deeper learning, increased understanding and improved self-awareness.
Various ACARA F-10 References are also addressed, however, the primary purpose is to continually develop literacy skills and oral language opportunities within the context of Indigenous Perspectives.
Format: Paperback
Series: History of the First Australians Set 4
Publication Date: 1/09/2021
Publisher: Knowledge Books and Software
Subject: Indigenous
Audience:

Primary

Curriculum:

Australian
First Australians Sets
We have these books in our library and have also integrated them into our take-home readers across years K - 6 to help expose our students and families to our First Nation peoples and culture. They are popular books in the library and are borrowed out across all year levels.
Vicki Gabriel
Library SSO
Moorak Primary and Preschool