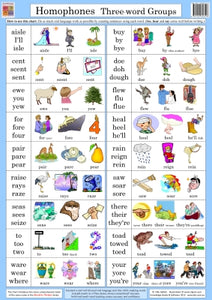 Homophones - Three-Word Groups Wallchart (Grade 3)
SKU / ISBN:
Author: Hallett, Ellie
This is the third in the series of irregular words causing spelling and meaning confusion. These words need to be understood to improve writing and fluency in reading.
Write/wipe - whiteboard type gloss finish allows the children to practise and remove for further attempts by others or as a refresher.
An invaluable resource for walls at home to practise and use in the classroom.
Wallchart measures approximately 45cm x 32cm.
Format: Wallchart
Series: Reading Works
Publication Date: 15/12/2014
Publisher: Knowledge Books and Software
Subject: Wallcharts, English
Audience:

Primary