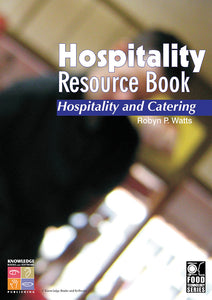 Hospitality Resource Book
SKU / ISBN:
Author: Watts, Robyn
Develops and updates hospitality industry knowledge. Hospitality with a smile!
Tests students' skills to work with colleagues and customers and enables them to work in socially diverse environments.
Provides the skills to participate in environmentally sustainable work practices.
Enables students to follow health, safety and security procedures as well as follow workplace hygiene procedures.
This new book brings a smile to the face of hospitality students. All the skills are tested and educated choices are put to the test when the student completes the exercises in this new book
This is a blackline master that is full of interesting exercises and activities that support the new Hospitality syllabus.
Format: Paperback
Publication Date: 25/09/2009
Publisher: Knowledge Books and Software
Subject: Home Economics
Audience:

Secondary

Curriculum:

Australian