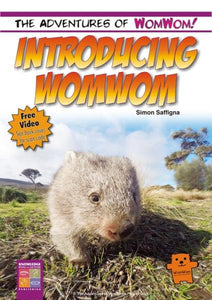 Introducing WomWom
SKU / ISBN:
Author: Simon Saffigna
---
The Adventures of WomWom
is the story of a young Australian wombat who shows children how important it is to look after their own health, the environment and each other. WomWom shares these important messages with young readers by involving them in interesting adventures.
This book and film will show you where WomWom lives, sleeps, eats and adventures. You will also meet some of WomWom's friends.
The Adventures of WomWom
also encourages children to care for each other and the environment in practical, 'hands-on' ways.
After reading
Introducing WomWom
, the adventure continues with a comprehensive science series of readers featuring WomWom.
RR Level
: 26
Fiction/Non-Fiction
: Fiction
Format: Paperback
Pages: 28
Series: The Adventures of WomWom
Series Number: 0
Publication Date: 7/05/2016
Publisher: Knowledge Books and Software
Subject: Literacy
Audience:

Primary

Reading Recovery:

Level 26

Curriculum:

Australian