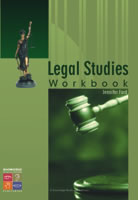 Legal Studies Wookbook 1
SKU / ISBN:
Author: Ford, Jennifer
This comprehensive workbook focuses on many of the key areas of the Legal Studies courses being offered in Australian high schools and is suitable for classroom use in all Australian states and territories. The reproducible exercises contained in this workbook encourage students to apply their knowledge and skills acquired throughout the course to both theoretical and practical situations.
Areas featured in the workbook include:
an introduction to the Australian legal system
criminal law
contract law
torts
family law
environmental law
employment
property law
court visit worksheets.
The workbook also contains a comprehensive teachers' section with more than 30 pages of detailed answers to the activities. An essential resource for all legal studies courses!
Format: Paperback
Series: Legal Studies Wookbooks
Publisher: Knowledge Books and Software
Subject: Legal Studies
Audience:

Secondary