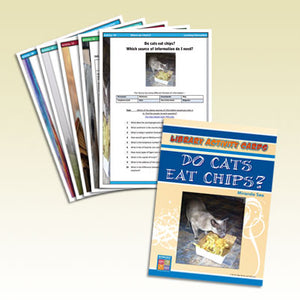 Library Activity Cards Set (Cards and Teacher's Manual)
SKU / ISBN:
Author: Sea, Miranda
This flexible resource contains over 70 activities presented in laminated A4 card format. Each activity takes about fifteen minutes and focuses on developing basic library and information skills for upper primary and lower secondary students. Teachers may choose to have the entire class work on one activity or, alternatively, students can work individually through each activity card over a number of lessons.
The Teacher's Manual contains learning intentions, teaching notes, answers and photocopiable templates for each activity card.
Topics include:
Arranging words into alphabetical order
Basic bibliography writing
How to use contents pages in a book
Looking at words and dictionaries
Using World Book Encyclopedia
Looking at fiction books
Following instructions such as recipes
Genres in books
Using glossaries
Using indexes in books
Keywords
Locating information
Locating non-fiction books
Internet search strategies
Library vocabulary
Website evaluation
Also available:
The Software accompanies the Library Activity Cards and is presented in PDF format.
Format: Kit
Series: Library Activity Cards
Publication Date: 1/04/2013
Publisher: Knowledge Books and Software
Subject: English
Audience:

Primary, Secondary

Reading Recovery:

Level No

Curriculum:

Australian