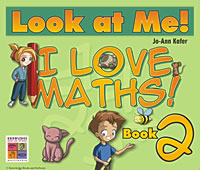 Look at Me! I Love Maths!
SKU / ISBN:
Author: Kafer, Jo-Ann
This Look at Me! Maths workbook is the culmination of an 11-year project to write a series of books which will be fun-filled, cover the syllabus requirements, be easy to use and produce results. The use of engaging graphics, practical lessons and easily attempted activities makes this an exciting workbook for all Grade 1 level students.
This workbook offers a variety of 'hands on' procedural learning experiences that promote numeracy and literacy skills that can be used with children from diverse multicultural, intellectual and socio-economic backgrounds. Teachers who have trialled this series have found them to be an exciting, challenging and rewarding resource for assisting students to reason, think and work mathematically.
The series has been developed to engage and motivate students so that they will think more deeply, investigate, explain and understand strategies. The workbook has been designed to develop independent and motivated learners.
Topics treated include:
Whole Numbers
Addition and Subtraction
Multiplication and Division
Fractions and Decimals
Chance
Patterns and Algebra
Data
Length
Area
Volume and Capacity
Mass
Time
3D, 2D
Position
About the author: Jo-Ann Kafer is a primary teacher with 20 years' experience including five years dedicated to teaching Mathematics whilst working in a western NSW school which used 'Learning Centre' organisation.
Format: Paperback
Pages: 160
Series: Look at Me!
Publication Date: 20/08/2004
Publisher: Knowledge Books and Software
Subject: Maths
Audience:

Primary

Curriculum:

Australian