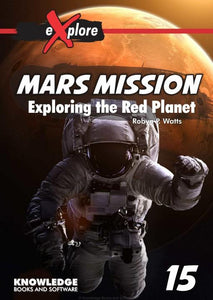 Mars Mission
SKU / ISBN:
Author: Watts, Robyn P.
This beautifully presented book outlines the exploration and the exciting future plans for colonising Mars. This type of space exploration is unlike any previous space missions. Come on a journey to Mars as we discover the many challenges and problems of space travel and setting up a colony on The Red Planet.
Mars is regularly in the news and a new era of space exploration has started. The journey to, and the colonising of Mars is as important as Cook's Pacific explorations. It offers a whole new world of wonders to explore. It is now technically possible to get to Mars and back. The colonising of space has been proven with the International Space Station over many years. Now follow the challenge of setting up similar modules on Mars.
Format: Paperback
Pages: 44
Series: eXplore Chapter Books
Series Number: 15
Publication Date: 1/07/2020
Publisher: Knowledge Books and Software
Subject: Learning Support, Literacy
Audience:

Primary, Secondary

Reading Recovery:

Level 21

Curriculum:

Australian