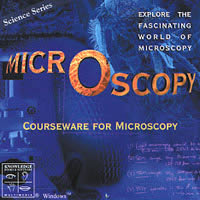 Microscopy (CD-ROM)
SKU / ISBN:

Explore the fascinating world presented in this detailed CD-ROM package designed to cover course requirements for the senior high school biology, college or university courses in introductory microscopy.
Animations and videos complement the hundreds of high quality still images to explain the physics, preparation and procedures of microscopy. Beautiful image banks and graphics help to clearly illustrate concepts and techniques. The easily navigated program features voice-overs for each title screen and a note pad glossary. To aid in revision, a series of interactive tutorials is included in the program.
Included in Microscopy is an electronic version of The American Heritage® Dictionary of Science by Robert K. Barnhart with more than 16,000 entries on all scientific fields from astronomy to zoology. Each entry is fully explained with notes, variant spellings, prefixes and suffixes, application and etymology.
A handy reference section of comparative tables and scales is also included.
Format: CD-ROM
Series: Science Series
Publication Date: 01/01/2000
Publisher: Knowledge Books and Software
Subject: Subject: Science
Audience:

Secondary