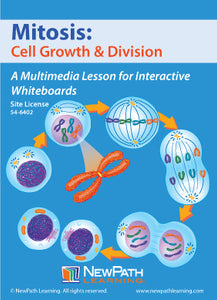 Mitosis: Cell Growth & Division Multimedia Lesson (CD-ROM)
SKU / ISBN:

The Perfect Complement to Any Life Science or Biology Curriculum!
Contains a comprehensive array of multimedia lessons and activities. Designed for multi-sensory learning, they're the perfect resource for Interactive Whiteboards. And the lessons are also ideal for individual student instruction on any computer!
Each multimedia lesson consists of the following 5 Modules along with a digital, inquiry-based Student Activity Guide:
Lesson Presentation - Consists of a series of narrated, visual presentations, each featuring highly-detailed graphics and illuminating animations.
Interactive Activities - Includes a variety of activities, a virtual lab investigation and a Lab Activity Guide.
Visual Resources - Provides additional images as well as the individual graphics from the Lesson Presentation Module.
Vocabulary - Features an illustrated view of key vocabulary, allowing you to choose any of the terms along with their corresponding images and definitions.
Assessment - Consists of a series of assessment/review questions for use in either a Quiz Mode, Practice Mode or Play Mode.
This title covers:
The Cell Cycle
Animal Cell Mitosis
Plant Cell Mitosis
Cytokinesis
Virtual Lab Investigation: Compare Mitosis in Plant & Animal Cells
Format: CD-ROM
Series: Life Sciences Multimedia Lessons
Publisher: NewPath Learning
Subject: Subject: Science
Audience:

Secondary

Curriculum:

Australian