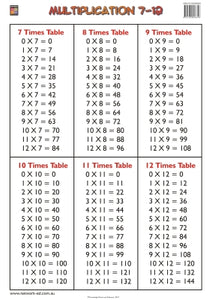 Multiplication Tables 7-12 Wallchart (Grade 3)
SKU / ISBN:

This chart addresses the National Curriculum requirements for Grade 3 in Maths in regard to knowledge and practise with the tables from 7-12.
Multiplication and knowledge of tables is an essential component for Maths and is extending the work from Grade 2 from the introductory stage. This chart can be used for several years based on the child obtaining fluency in the process of computations using these tables. This will allow for fluency when it comes to problem-solving with multiplication computations.
Write/wipe - whiteboard type gloss finish allows the children to practise and remove for further attempts by others or as a refresher.
An invaluable resource for walls at home to practise and use in the classroom.
Wallchart measures approximately 45cm x 32cm.
Format: Wallchart
Publication Date: 15/12/2014
Publisher: Knowledge Books and Software
Subject: Wallcharts, Maths
Audience:

Primary