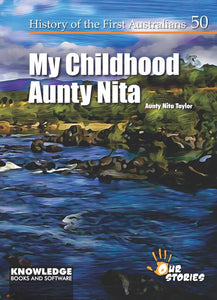 My Childhood - Aunty Nita
SKU / ISBN:
Author: Nita, Aunty
My Childhood - Aunty Nita is a non-fiction recount of the author, Aunty Nita Taylor's childhood, living in the small village of Cangai in the foothills of the Great Dividing Range in New South Wales. Through her recount, Aunty Nita explains the importance of family, community, place and culture and shares her memories of the beauty of the wild Northern Rivers of New South Wales and her proud Gumbaynggirr heritage.

Aunty Nita Taylor was born Nita Aileen Duroux on 12.12.34 in Grafton, the sixth child in a family of twelve. Aunty Nita is a proud and active member of the Gumbaynggirr Nation, and regularly attends the Grafton Elders' Group. Aunty Nita loves to spend time with family, and especially loves watching the sporting activities of her 15 grandchildren and 14 great grandchildren.
Format: Paperback
Pages: 24
Series: History of the First Australians Set 3
Series Number: 50
Publication Date: 20/01/2020
Publisher: Knowledge Books and Software
Subject: Indigenous
Audience:

Primary

Reading Recovery:

Level 22

Curriculum:

Australian
love it very unique.
This book it just outstanding and it tells me what first nations people went through from first hand 100% recommend buying.