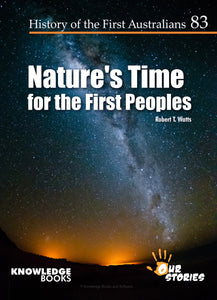 Nature's Time for the First Peoples
SKU / ISBN:
Author: Watts, Robert T.
First Nations people didn't have clocks or calendars. They told time by what was happening around them. The movement of the seas, the sky, seasonal flowers, and animals gave them information about time. Time was a cycle of events that repeated itself. First Nations people were masters of their environment who responded to natural cycles.
Format: Paperback
Series: History of the First Australians Set 5
Series Number: 83
Publication Date: 01/05/2023
Publisher: Knowledge Books & Software
Subject: Indigenous
Audience:

Primary

Reading Recovery:

Level 13

Curriculum:

Australian