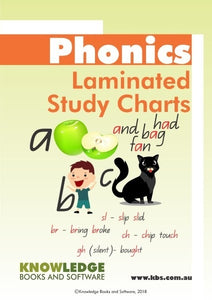 Phonics Starter Pack of 6 Laminated Charts
SKU / ISBN:

A4 - 297 x 210 mm (single sided, 80 micron double-sided laminated).
A fantastic special bundle deal to cover all the starting skills for phonics and decoding of words. A brilliant resource for classrooms and individual instruction. Check out this price - it will be very hard to do better! Children can use these as place mats, use felt dry markers and erase with wiping.
All charts are laminated for continual usage with reduced wear. There are 6 laminated charts in this bundle:
Vowels the starting point for the sounds which make words. These vowel sounds are essential for reading and speaking.
Consonants - the sounds of the consonants is important to practise for reading effortlessly.
Digraphs - this means combination of two letters to make one sound. For example, ..ign as in sign. Vowels, Endings, Long Vowels, Short Vowels, and Silent Letters are treated.
Decode Words 100 list - these words will build a quick word list easily using the sounds of the vowels and consonants.
Sight Words 100 list - these 'sight' words need to practised without decoding as the words do not obey the rules of decoding.
End-Start Digraphs - words made from digraphs - this contains consonant blends front, consonant blends end, digraphs and trigraphs, double consonants, and 'ng and 'nk patterns.
Format: Quantity Pack
Publication Date: 15/12/2014
Publisher: Knowledge Books and Software
Subject: Wallcharts, English
Audience:

Primary