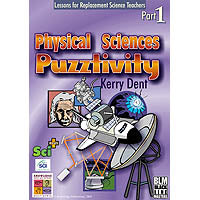 Physical Sciences Puzztivity
SKU / ISBN:
Author: Dent, Kerry
Puzztivities provides teachers with a valuable set of puzzles, activities and extensions covering a vast array of topics for secondary physical science that will challenge and stimulate the students.
Puzztivities may be used by the teacher in a variety of ways, including instant lessons: introductions to, or revisions of, topics; extensions or confidence boosters. Whichever way the teacher incorporates them into their teaching strategies, they will provide a valuable ready resource that will enhance the scientific reasoning and methodical skills in their students while they have fun!
Physical Sciences Puzzitivity has 50 reproducible worksheets on the following areas:
Measurement
Matter
Reactions
Natural and Synthetic Materials
Forces and Energy
Electricity and Magnetism
Light and sound
Water
Atmosphere and Weather
Space
The Earth Beneath Us
These worksheets will enhance the teaching and learning of science in a most unique and dynamic manner.
Format: Photocopiable Masters
Series: Puzztivitiy
Publication Date: 09/01/2002
Publisher: Knowledge Books and Software
Subject: Subject: Science
Audience:

Secondary