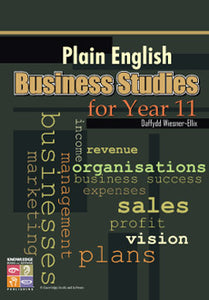 Plain English Business Studies for Year 11
SKU / ISBN:
Author: Wiesner-Ellix, Daffydd
---
Plain English Business Studies is a new business studies textbook for Year 11. The text includes core vocabulary, terminology and has been written for easy reading fluency. Unlike most texts which have an English Reading Level usually of Year 11/12 up to University standard each module is written in plain English and the reading level of each text is set to be between Year 8-10 Year Level. This exciting new book includes the following key curriculum.
Discuss the nature of business, its role in society and types of business structures
Includes information about profit and not for profit organisations
Explains the internal and external influences on businesses including the (operating and macro) environments of a business.
Analyse the responsibilities of business to internal and external stakeholders. The nature of business ethics and socially responsible management: and their potential impact on various stakeholders.
Plan and conduct investigations into contemporary business issues.
Evaluate information for actual and hypothetical business situations.
Determine the distinctions between small, medium and large businesses.
Assess the contribution of small business to the economy.
Format: Paperback
Series: Plain English Business Studies
Series Number: 1
Publication Date: 05/11/2012
Publisher: Knowledge Books and Software
Subject: Business Studies
Audience:

Secondary

Curriculum:

Australian