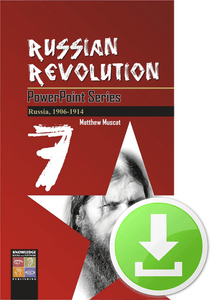 Russia, 1906-1914 (Downloadable File)
SKU / ISBN:
Author: Muscat, Matthew
The years 1906-1911 saw some prosperity in Russia due to the combination of good harvests and the reforms made by Stolypin. This PowerPoint examines this along with some of the problems Russia faced, leading up to Stolypin's assassination. A quiz and some useful sources about Rasputin's involvement, including a link to a music video, are also provided.
About the author:
Matthew Muscat is currently the Head of History at St. Michael's College, Adelaide, South Australia. He has also had extensive experience as a Gifted and Talented Coordinator. In the past, Matthew has worked on a number of different State curriculum panels. Matthew's teaching specialities are in History, Information Technology and Digital Video Media. He has a proven record with students achieving outstanding results in the areas that he teaches, including a number of students being awarded merits in Modern History and Digital Video Media.
Note: your Downloadable File will be delivered by email.
Format: Digital
Series: Russian Revolution PowerPoint Series
Publication Date: 06/02/2012
Publisher: Knowledge Books and Software
Subject: History
Audience:

Secondary

Curriculum:

Australian