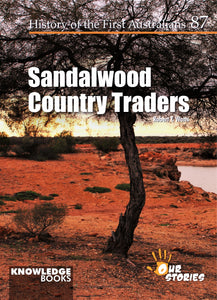 Sandalwood Country Traders
SKU / ISBN:
Author: Watts, Robert T.
First Nations people have been using the sandalwood tree for medicinal purposes for thousands of years in Australia. Not only does sandalwood oil smell beautiful – it also has some amazing health benefits. With the arrival of the British, sandalwood plantations quickly developed right across the top of Australia. Over time, the harvesting of sandalwood oil became more valuable than gold!
Format: Paperback
Series: History of the First Australians Set 5
Series Number: 87
Publication Date: 01/05/2023
Publisher: Knowledge Books & Software
Subject: Indigenous
Audience:

Primary

Reading Recovery:

Level 15

Curriculum:

Australian