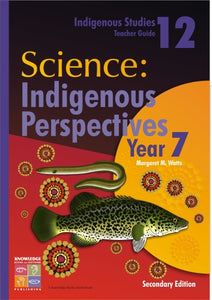 Science: Indigenous Perspectives Year 7
SKU / ISBN:
Author: Watts, Margaret M.
The Australian Science Curriculum includes a focus on Aboriginal and Torres Strait Islander histories and cultures. The purpose of this inclusion is to provide opportunities for all learners to deepen their knowledge of Australia by engaging with the world's oldest continuous living cultures. Indigenous people have been in Australia for many tens of thousands of years and during this time, Aboriginal people taught themselves how to live sustainably in Australia's fragile landscape. Although the first white settlers and explorers were lavish in their praise of lush grasslands, lightly wooded plains, and seemingly fertile soils, they did not understand or appreciate the role of Aboriginal people in producing these landscapes.
It is only in recent years that environmental scientists, among others, have begun to really appreciate the importance of this knowledge in understanding the unique nature of the Australian landscape and its ecosystems. Aboriginal people knew, and still know, how to find food in every climate and season; they understand the medicinal properties of plants; and undertook intricate land management using fire, to increase the types of animals and plants that would be available. The activities in this book are designed to assist Year 7 students in developing a general understanding of Indigenous knowledge whilst engaged in studying specific contexts related to the Australian Curriculum: Science.
Format: Paperback
Publication Date: 01/12/2013
Publisher: Knowledge Books and Software
Subject: Indigenous, Science
Audience:

Secondary

Curriculum:

Australian