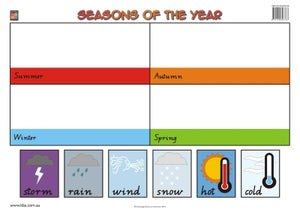 Seasons of the Year Wallchart (Prep)
SKU / ISBN:

This chart addresses the National Curriculum requirements in Science in regard to time and climate.
It is displayed so children need to practise and compute the observations and seasonal changes in climate and time.
Write/wipe - gloss finish allows the children to practise and remove for further attempts by others or as a refresher.
An invaluable resource for walls at home to practise and use in the classroom.
Wallchart measures approximately 45cm x 32cm.
Format: Wallchart
Publication Date: 15/12/2014
Publisher: Knowledge Books and Software
Subject: Wallcharts, SOSE
Audience:

Primary