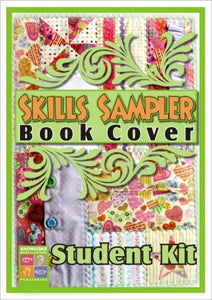 Skills Sampler Book Cover: Student Kit
SKU / ISBN:

The Skills Sampler Book Cover is an exciting textiles project suitable for students in grades 9-11. The Skills Sampler Book Cover is a complete package and can be used for a term's work. While completing this project, students learn a range of essential basic sewing skills.
Skills learnt:
Buttons and buttonholes
Machine stitching
Appliqué
Zips
Gathering
Attaching trims
Hand embroidery
Simple patchwork
Student Kits are completely cut out and individually packaged ready for each student to begin. Each Kit contains all the materials needed for creating an individualised Book Cover. Schools are provided with a range of Kits in a variety of fabric themes.
The Student Instructions include colour photographs and are sold separately.
The Teacher's Manual provides valuable back-up knowledge and teaching tips for teachers, as well as evaluation and reflection questions. An interactive PowerPoint CD-ROM is included with the Teacher's Manual.
Format: Kit
Series: Skills Sampler Book Cover
Publisher: Knowledge Books and Software
Subject: Home Economics
Audience:

Secondary