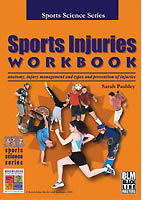 Sports Injuries Workbook
SKU / ISBN:
Author: Pashley, Sarah
This book is a comprehensive introduction to the science of sports injuries. Sarah Pashley's informative text is supplemented with superb illustrations, diagrams and examples.
The students' section contains a range of exercises for various levels of interest and depth. A corresponding teachers' guide includes answers and responses. The content covers anatomy: muscles, bones and anatomical position; soft tissue and bones: skin, muscle, tendons, ligaments, joints and cartilage, fascia, bursa and nerves.
The text examines common sports injuries - elbow, lower leg, knee, shoulder, wrist, neck and groin. Further sections look at high risk sports, injury management and strategies for injury prevention in sport.
An essential resource for all schools and sporting clubs, this can form the basis of projects, a class unit or as a handy reference for coaches, teachers and anyone participating in physical sports.
Sarah Pashley holds an Advanced Diploma in Clinical Sports Massage, a Bachelor of Science in Physiology and Psychology and a PhD. in Neuroscience. Sarah has worked as a sports massage therapist and as a researcher in the pharmaceutical industry in Europe and America and has published numerous journal papers on medical research.
Format: Paperback
Series: Sports Science
Publication Date: 03/03/2003
Publisher: Knowledge Books and Software
Subject: Physical Education
Audience:

Secondary