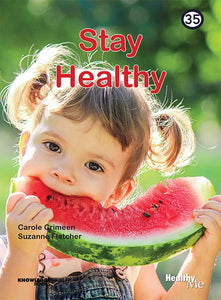 Stay Healthy
SKU / ISBN:
Author: Fletcher, Suzanne and Crimeen, Carole
Set 2 includes 20 readers + 2 × Teachers' Resource + Reading Records
Stay Healthy is a simple informational text that describes how we can sometimes feel sick and the ways we can stay healthy. The text encourages good health through eating healthy food, drinking water and staying active through exercise and playing games.
Healthy Me! Set 2 is a set of 20 readers which treat the foundations of being healthy from a disease perspective, mental health, and general well-being. The series covers science foundations of living and non-living, staying alive requirements, size of living things, microbes and germs, sickness and treatment, pandemics, vaccinations, isolation and the importance of nutrition.
These are presented with levelled literacy texts which are ideal for readers who are beginners. Beautifully presented with full images and graphics - these are fun to read and review by students. They provide reading opportunities as well as foundational science content suitable for any classroom. The content provides many opportunities for discussion and oral language as well as use as guided readers and take-home readers. It treats the important elements of well-being and management of their own health as a foundation principle.
An essential series for early childhood education to be used as a simple reader or part of a program of work in science. The reading level is set at foundation level of fluency.
Format: Paperback
Pages: 16
Series: Healthy Me! Set 2
Series Number: 35
Publication Date: 01/06/2022
Publisher: Knowledge Books and Software
Subject: Literacy, Physical Education
Audience:

Early Childhood, Primary

Reading Recovery:

Level 05

Curriculum:

Australian